08/27/15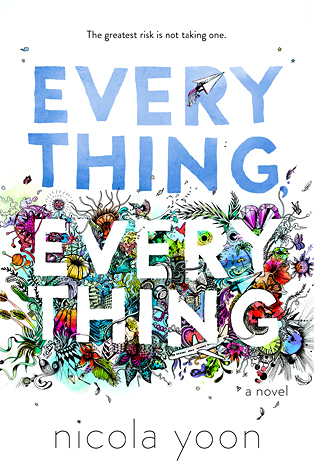 Novel: Everything, Everything by Nicola Yoon | Goodreads
Release Date: September 1st, 2015
Publisher: Delacourte Books for Young Readers
Format: ARC
Source: Publisher via TT4L
This innovative, heartfelt debut novel tells the story of a girl who's literally allergic to the outside world. When a new family moves in next door, she begins a complicated romance that challenges everything she's ever known. The narrative unfolds via vignettes, diary entries, texts, charts, lists, illustrations, and more.

My disease is as rare as it is famous. Basically, I'm allergic to the world. I don't leave my house, have not left my house in seventeen years. The only people I ever see are my mom and my nurse, Carla.

But then one day, a moving truck arrives next door. I look out my window, and I see him. He's tall, lean and wearing all black—black T-shirt, black jeans, black sneakers, and a black knit cap that covers his hair completely. He catches me looking and stares at me. I stare right back. His name is Olly.

Maybe we can't predict the future, but we can predict some things. For example, I am certainly going to fall in love with Olly. It's almost certainly going to be a disaster.
This has been one of my must-reads since I heard about it. I'd been waiting to read it until it was close to release date, and then when Jen told me "READ IT NOW OR ELSE" I had to read it. (Jen is scary when you don't read something she wants you to.)
Everything, Everything is, simply, everything.
It's heart-warming, witty, poignant, difficult at moments, emotional, and utterly intoxicating. I loved the use of illustrations and multimedia in the story line – it added to the story in such a new way! Madeline, the main character, is someone who I saw myself in in so many ways. Her love of reading, her love for her mother – I think a lot of other readers will relate to Madeline as well. Madeline kept on surprising me. She was adventurous in her own way, a wee bit defiant, but also had a incredibly strong moral compass, which I adored. I love a character who is realistic – most teenagers I know would never want to purposely defy their parents, and feel horrible when they lie to them. Seeing that is Madeline made me like her even more.
Olly is a completely different story.
He's kind, compassionate, witty, but also struggling with a lot of family stuff. Yoon touches on abuse in homes in a quiet but also powerful way, by showing how hard it is for families to realize that enough is enough, especially with verbal and occasional physical abuse. But Olly himself was incredible. He helped Madeline to see more of the world, and loved her with no questions. He loved her and didn't care about her illness, wanting to be with her in any way possible. But he also supported her desire to want more in the world, and when she asked for more, he gave it to her in every way he could. Their relationship, which develops over IM, felt real – although a bit insta-lovey (but nothing I couldn't handle). I loved how Yoon described the first meeting with people who you've developed an online relationship with – as awkward and a bit uncomfortable at first. Seeing Olly and Madeline's relationship grow over the course of the book made my heart swell.
Do know that although this book touches on a lot of different topics, mainly family, it is in many ways a love story. It focuses on the development of Olly and Madeline's relationship and how he helps her to see the world in a new way. But, that doesn't mean it isn't original and completely awesome. Madeline's nurse, Carla, was one of my favorite characters – her love for Madeline and continued support of her made my heart swell.
Madeline's illness gave this book a whole new layer. It's incredibly detailed on how Madeline lives with her disease, and some of the medical issues that she confronts because of it.
The ending, I have to say, was a bit predictable, but no less surprising. Plot-twist central! If you love a great story, an intoxicating romance, and a focus on families, this book is totally for you. (Actually, if you're human this book is for you.)