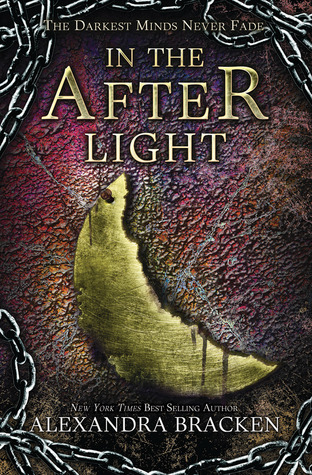 Novel: In The Afterlight (The Darkest Minds, #3) by Alexandra Bracken | Goodreads
Release Date: October 28th, 2014
Publisher: HarperCollins
Format: Hardcover
Source: Library
Ruby can't look back. Fractured by an unbearable loss, she and the kids who survived the government's attack on Los Angeles travel north to regroup. With them is a prisoner: Clancy Gray, son of the president, and one of the few people Ruby has encountered with abilities like hers. Only Ruby has any power over him, and just one slip could lead to Clancy wreaking havoc on their minds.
They are armed only with a volatile secret: proof of a government conspiracy to cover up the real cause of IAAN, the disease that has killed most of America's children and left Ruby and others like her with powers the government will kill to keep contained. But internal strife may destroy their only chance to free the "rehabilitation camps" housing thousands of other Psi kids.
Meanwhile, reunited with Liam, the boy she would-and did-sacrifice everything for to keep alive, Ruby must face the painful repercussions of having tampered with his memories of her. She turns to Cole, his older brother, to provide the intense training she knows she will need to take down Gray and the government. But Cole has demons of his own, and one fatal mistake may be the spark that sets the world on fire.
I'm going to fully blame Aneeqah (My Not So Real Life) for the copious amounts of feels I'm experiencing right now over the end of this series. RUBY. LIAM. ZUZ. CHUBS. VIDA. COLE. I'M AN EMOTIONAL MESS ON THE FLOOR.
Also can we discuss the titles of the books in this series? I just saw this on Goodreads and it blew my mind:
THE DARKEST MINDS NEVER FADE IN THE AFTERLIGHT
K I'm done with you, Alexandra Bracken. Too genius. Please leave the building. (I'm just kidding. But seriously. HOW?!)
This series was one I quite honestly never expected to like. It felt like it was going to be like everything else out there in the dystopian genre. I was so, so wrong though – this series is unique and utterly beautiful. From the writing to the character development to the finite details of the plot, these books are just… wow.
In The Afterlight is a stunning follow up to Never Fade – it picks up shortly after where Never Fade leaves off, and pulls you into Ruby's newest challenge: living in a bunker (of sorts) and building some sort of an army to stop the government and shut down the camps. But with Cole, Liam's brother, in charge (kinda) and her own demons rising to the surface, Ruby is struggling to keep it together.
The character arcs that occur in In The Afterlight are stunning. We see Ruby dealing with her guilt, Liam struggling with his family's past, Zuz coming out of her shell, Chubs being Chubs, and Vida confronting her issues with some of the other kids. The plot fires up and the kids are working against incredible odds to make the unspeakable a reality: the closure of the camps. It's the ultimate uprising – all led by kids. And it's awesome.
This book just left me speechless. I couldn't read it fast enough – I wanted to know what happened to Ruby and Liam, what happened to the camps, how it all ended for them. I wish I had gotten around to this one sooner because it blew me straight out of the water.