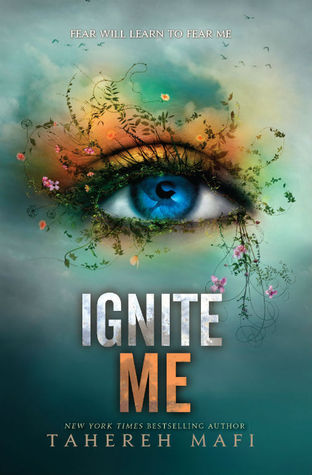 Novel: Ignite Me (Shatter Me, #3) by Tahereh Mafi | Goodreads
Release Date: February 4th, 2014
Publisher: HarperCollins
Format: E-book
Source: Library
The heart-stopping conclusion to the New York Times bestselling Shatter Me series, which Ransom Riggs, bestselling author of Miss Peregrine's Home for Peculiar Children, called "a thrilling, high-stakes saga of self-discovery and forbidden love."
With Omega Point destroyed, Juliette doesn't know if the rebels, her friends, or even Adam are alive. But that won't keep her from trying to take down The Reestablishment once and for all. Now she must rely on Warner, the handsome commander of Sector 45. The one person she never thought she could trust. The same person who saved her life. He promises to help Juliette master her powers and save their dying world . . . but that's not all he wants with her.
The Shatter Me series is perfect for fans who crave action-packed young adult novels with tantalizing romance like Divergent by Veronica Roth, The Hunger Games by Suzanne Collins, and Legend by Marie Lu. Tahereh Mafi has created a captivating and original story that combines the best of dystopian and paranormal, and was praised by Publishers Weekly as "a gripping read from an author who's not afraid to take risks." Now this final book brings the series to a shocking and satisfying end.
Tahereh Mafi is one of my favorite authors.
Ever.
And not only because she is a downright beautiful writing style, but because she puts all of her characters through their own personal hell and pulls them out. She takes them on a path of self-discovery, where they learn their true colors, and that they aren't what they thought they were. In Ignite Me, this talent I've always adored is put on full display.
WARNING: SPOILERS OF THE SERIES INSIDE OF THIS REVIEW
The book opens with Juliette in Warner's bedroom. She's been shot by Anderson and Warner has saved her and she's in his bedroom. We see Warner, the incredible, beautiful, my favorite-character-in-the-entire series-Warner, who has saved Juliette and brought her to his home against all of the dangers and cares for her in a way that shocked me. You see this in Unravel Me to a certain extent, but in Ignite Me, Warner continually astonished me. His true color shown through like that first sunny day after the dark days of winter. And with this kindness comes Warner's love, and Juliette is left in the mess of it all, trying to discern her own feelings, especially after having broken up with Adam in Unravel Me.
This, right here, is possibly the best part of the entire book for me – Juliette's internal decision making process over Adam/Warner. I don't think it's a love triangle, because she doesn't love Adam anymore, not in the way she used to. She still cares for him, and it's that feeling she has to understand. Did she ever love him? Or did she and did she fall out of love? And what does she feel for Warner? Can he really have been this person all along and she was too blind to see it? She battles these questions throughout the book, and I think that this battle is what made this book my favorite of the series, and ultimately made me decide that Tahereh Mafi is just a downright genius. She takes Juliette and her world and allows us to relate to her through her emotional decision-making process. And the resolution Juliette comes to is, by far, one of the best character developments I've seen in YA, across the board.
And then there's our other characters, specifically my second fave, KENJI. You want ultimate, hilarious, incredible best friend material? Kenji, my friends. Just. Kenji. He's hilarious and kind, and cares for Juliette in such a deep way. He's fiercely loyal to her, and questions her but just enough to push her. He is the person who is there for her, 100%, 100% of the time. And I adore him.
This book killed me in so many ways. But it also gave such an amazing ending to this story. Mafi did an incredible job with this book, and I couldn't have asked for anything more from her. So, thunderous applause to Tahereh Mafi and the Shatter Me series.